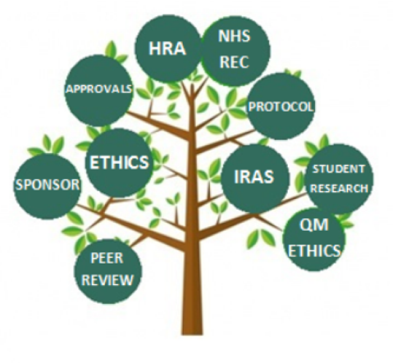 Is my proposal research?
The Health Research Authority (HRA) has published a decision-making toolkit to determine whether a piece of work, a project or an investigation, is classified as research. The HRA guidance document with definitions can be found on its website.
Clinical Audits, Service Improvement Projects and Service Evaluations are not research. They do not, therefore, require a submission to the Research Ethics Committee, the Health Research Authority (HRA) or approval from the JRMO. However, if conducted within Barts Health they will need to be registered with the Clinical Effectiveness Unit or, if you are outside of Barts Health, contact them at bartshealth.clinicaleffectiveness@nhs.net
If you are unsure whether your work should be defined as research, audit or service evaluation, please contact research.governance@qmul.ac.uk
Who will lead the study?
The Chief Investigator (CI) is the person with overall responsibility for the study. Please check the HRA website and the IRAS MyResearch website for definitions of the role.
The Principal Investigator (PI) is the investigator responsible for the running of a research study at any given research site. There is one PI per site, but in the case of a single-site study, the CI and the PI will usually be the same person.
Key Collaborators are investigators and co-collaborators working on the study; some examples of their roles are grant co-applicants, protocol co-authors, expert peer reviewers and statisticians. If an individual is named as the CI or PI they should not also be named as Key Collaborator. However, an individual may be both Key Collaborator at the study-wide level and a member of a local research team at a site.
The Local Research Team are members of the research team (other than the CI, PI or Key Collaborators) who take an active part in conducting the study or administering any of the study procedures, at any given research site.
What is a 'research site'?
A research site is defined as the single organisation responsible for conducting the research at a particular locality. The research site is not necessarily the location where research activities will actually take place. For example, an entire NHS Trust is a named site; e.g. Barts Health NHS Trust would be the named site, even if the only place it is happening is at the Royal London Hospital.
Similarly, in a research study conducted by GP practice nurses, interviews with participants may take place in the participant's home, but the research site would be the GP practice. Research sites are organisations responsible for participant-related research procedures specified in the protocol - including recruitment and informed consent. Referral of a patient for assessment and possible recruitment is not part of the conduct of the study.
A 'Participant Identification Centre (PIC)' is not classified as a site; it is used to inform potential participants about a study (such as putting up a poster in a waiting room to advertise a study), based on which the potential participants may choose to contact the researcher should they wish. There are no research activities taking place at a PIC.
Sponsorship
Who will sponsor the study?
All research projects must have an identified sponsor. The sponsor organisation could be the Chief Investigator's employer, the funder; a commercial company or an educational institution, depending on the nature of the study, purpose, scope and location.
The JRMO will normally identify the Chief Investigator's substantive employer as the sponsor. Where the study is for an educational qualification, the University providing the qualification would usually be identified as the sponsor. Further guidance about student projects is available.
Guidance and how to apply for sponsorship from Barts Health or Queen Mary is available.
What is the difference between a sponsor and a funder?
The sponsor is the organisation that takes responsibility for the design, conduct and management of the research. The sponsor provides indemnity and insurance for the study, protecting the research team and study participants from negligent and non-negligent harm.
A funder is the company, charity, research council or other organisation or group of people (e.g. crowd-funding) that provides finance, staff, equipment or resources to facilitate the research.
Finance and Costings
Do I need to get my study costed?
The JRMO will prepare a detailed costing of the study for the relevant organisation, including appropriate charges to levy for the study and give advice on any precedents that have been set with particular research sponsors. Costings are now made, following the initial submission of a Pre-Costing Questionaire (PCQ), through the Worktribe system. The formal costing is available to Principal Investigators through Worktribe.
Please see our Worktribe pages for more information.
How might I fund my study?
The JRMO's Costing & Contracts team has an online costing tool that establishes how much your study will cost the institution and research team to deliver. All studies must be costed. If your proposed research involves significant costs and you intend to apply for external funding you should look into applying and securing funding as soon as possible. A range of funding opportunities is available, including project-specific grants, Research Council bids or awards from an interested third party such as a charity or other institution.
How do I get funding or support costs for my project?
You can find details about possible sources of funding elsewhere on this website. Studies included in the NIHR portfolio may be eligible for support from the NIHR Clinical Research Network. For more information please see the NIHR Website.
Applications and Approvals
What does a Research Protocol need to include?
The JRMO has protocol templates for researchers applying for sponsorship from either Barts Health or Queen Mary. The correct template depends on the study type and researchers are required to complete and submit this document as part of the sponsorship application. The Protocol is only one document of your minimum application pack. Protocol Templates are available attached to SOPs 11a, 12a and 13a. Should you require assistance on how to classify the study please email research.governance@qmul.ac.uk
What Applications and Approvals are needed for the study?
The regulatory bodies you need to apply to will vary depending on the type of study, participant population and location of proposed research sites.
All clinical research requires formal sponsorship before a study can progress to the HRA approval process. The Governance team provides guidance on sponsorship applications before the process begins.
(i) Health Research Authority (HRA)
HRA Approval is the process that brings together the assessment of governance and legal compliance for the NHS in England.
(ii) NHS Research Ethics Committee (REC)
All research studies involving human participants, human data or human tissue (with some exceptions) should receive an independent ethical review and approval from a recognised ethics committee before commencing. To determine whether NHS REC approval is required, please use the HRA decision tool.
Other regulatory bodies (depending on your study type) include:
In addition to the regulatory approvals above, and further to confirmation of sponsorship, you may also require:
Capacity and Capability at the site level (the JRMO, or where necessary NIHR North Thames Clinical Research Network, will assess the capacity and capability for Barts Health or Queen Mary if named as a site); and/or
Site activation and sponsor green light (for studies regulated by the MHRA, the sponsor will confirm sponsor green light and permission to activate sites).
Do I need NHS REC approval if I am planning on conducting research with NHS staff as participants?
NHS REC review is not normally required for research involving NHS or social care staff recruited as research participants by virtue of their professional role. For more information see the HRA website and the HRA decision tool. Please note that although NHS Staff studies do not require NHS REC approval, they do require HRA Approval.
Do I need REC approval if I am planning on conducting research outside of the NHS, with healthy volunteers as participants?
It is highly likely that you will need approval from the appropriate ethics committee. If the research is being conducted as part of either an educational qualification or employment with Queen Mary you should seek approval from the QMERC before commencing your research.
What is the Confidentiality Advisory Group (CAG)?
The Confidentiality Advisory Group (CAG) receives and reviews applications from researchers who propose to access confidential patient information without consent. The CAG advises on whether there is sufficient justification for the HRA or the Secretary of State for Health to approve these applications. Any queries regarding CAG applications and approval should be sent via the IRAS system to HRA.CAG@nhs.net
What approvals do I need if I intend to conduct my study entirely outside the UK?
Depending on the nature of the study, you may need sponsorship and/or REC approval from within the UK. In addition to relevant UK approvals, the study must be approved according to local laws, regulations and guidelines. You will need to liaise with the international organisation you intend to name as a research site and request guidance from them as to the local requirements for research approvals.
Please note that the NHS (including Barts Health NHS Trust) is unable to sponsor any research that takes place outside of the UK, due to its status as a UK health body. However, QMUL can consider sponsoring an international study, if appropriate.
The intervention used in my study is standard care. Do I still need approvals?
Yes, it is likely that you will still require sponsorship, REC and HRA approval to conduct a research study, even if you are not changing patient care.
If you are running a clinical trial of a drug that is widely used in clinical practice you will still need approval from the MHRA to conduct a study assessing its safety or efficacy.
When can I start my research?
This is very much dependent on several factors including:
The type of study you are planning – whether it is a clinical trial, interventional research or non-interventional research study;
Where the study is taking place and the number of sites – multi-centre, single-site, international; and
The population – whether NHS Patients, healthy volunteers, vulnerable groups.
These factors inform which organisations you require approval from; and which regulatory bodies you need to apply to. However, as a guide, you can only start when you have the following approvals in place:
Confirmed sponsor agreement;
REC Favourable opinion (either NHS REC or University REC);
HRA Approval;
Any other regulatory bodies, such as Confidentiality Advisory Group or ARSAC, specific to your study; and/ or
Capacity and Capability (site) approval.
GCP/ Clinical Trials
Are there any additional approvals necessary for studies involving Investigational Medicinal Products?
Yes. These include:
(i) Medicines and Healthcare products Regulatory Agency (MHRA)
There is a legal requirement for researchers planning a clinical trial to apply to the Medicines and Healthcare products Regulatory Agency (MHRA) for a Clinical Trials Authorisation (CTA) before a trial starts (Medicines for Human Use (Clinical Trials) Regulations 2004).
The regulations apply to clinical trials assessing the safety or efficacy of a medicinal product.
Trials of interventions such as surgery, where patients will be receiving medicines as part of standard treatment, do not come under the Regulations.
The MHRA part of this application is completed within IRAS but submitted to the MHRA via the Central European Submission platform [CESP]. Access to CESP will be given during the sponsorship process by the GCP team. The MHRA has produced a clinical trial algorithm to help you decide if you need to complete a CTA and how to apply. The MHRA inform the researchers of a decision regarding the CTA form within 60 days. There is a fee associated with this application.
If the trial is being funded and sponsored by a commercial company, it is likely the sponsor will submit the CTA on behalf of the Chief Investigator.
For trials that are sponsored by Barts Health or Queen Mary, the sponsor will delegate the responsibility for completing the CTA to the CI.
(ii) Obtaining a EudraCT number
If your trial falls within the scope of the CT regulations you are required to register your project on the EudraCT database (developed by the European Medicines Agency) by obtaining a EudraCT number. This number should be added to the CTA form and quoted on all correspondence with the MHRA, REC, and when reporting protocol amendments or serious adverse events.
To obtain this number you should go to the EudraCT website. Request a security code, which will be sent to you via e-mail. This email MUST be kept securely as the MHRA do not accept applications without it. On receiving the code you can apply for the EudraCT number on the same website.
What if my study involves the use of Barts Health's Pharmacy?
Barts Health's Pharmacy Service offers a range of services including the set-up of Clinical Trials involving Investigational Medicinal Products (CTIMPs), IMP management and other related activities for all sites within Barts Health.
What legislation do I need to comply with?
For MHRA regulated studies (Clinical Trials of Investigational Medicinal Products (CTIMPs), Advanced Therapy Medicinal Products (ATMPs), non-CE marked medical devices) that are sponsored by Queen Mary or Barts Health, the CI and statistician must attend a GCP course provided by the JRMO before the JRMO will issue permission to activate sites.
Good Clinical Practice is mandatory for all CTIMPs and recognized as the best practice for all other clinical research.
For more information on this, including the internationally accepted principles of GCP see NIHR online guidance.
All research conducted with or involving NHS patients, staff, data, or facilities must comply with the UK Policy Framework for Health and Social Care Research This outlines the principles of good governance applying to all research.
Finally, other regulations may apply to your study:
Please seek advice from the research governance team if you need advice about what is relevant to your study: research.governance@qmul.ac.uk
The study involves a new device: is there anything additional I need to do?
If you are planning a project involving a medical device, you may need to obtain a 'Letter of No Objection' from the MHRA. A Letter of No Objection can be obtained by completing the MHRA Devices form on IRAS and submitting it to the MHRA with supporting documentation. For more information on whether your medical device requires a Letter of No Objection please email research.governance@qmul.ac.uk
A Letter of No Objection is not required for studies that only involve medical devices that are CE-marked, and are being used within the parameters of the CE-marking. Local Assessment of Equipment including medical devices and any medical equipment (and associated documentation) that is intended for use on patients within Barts Health and intended for use in research must be assessed by Clinical Physics as soon as possible. Approval takes a few days.
For trials involving medicinal products, the Medicines for Human Use (Clinical Trials) Regulations 2004 is the law within the UK. All medical devices in the UK market must comply with device-specific legislation, as governed by the Medical Devices Regulations 2002.