Patient Research Experience Survey 2019/20
'The team always treat me with dignity and respect and are always very responsive to questions in person, via email and on the phone. They have always been there to support me'
Clinical Research Unit trial participant, PRES 2019/20.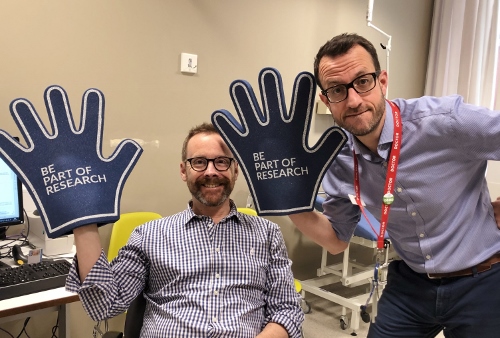 In 2019, we took part in the NIHR Patient Research Experience Survey (PRES) for the second year in a row, to gather feedback from patients who take part in our studies and to learn what works best for them. This enables us to make targeted changes in the way we undertake our research in the future. We also wanted to see if changes we had implemented after the first set of PRES results had made a difference to the experience of a research participant and we were pleased to see there has already been an improvement:
I had a good experience: 89% compared to 85% in 2018/19 results
I knew who to contact: 89% compared to 85% in 2018/19 results
Were you aware your health care provider supported research: 43% compared to 24% in 2018/19 results
I would take part again: 88.5% compared to 79% in 2018/19 results.
The Research Engagement Team coordinate the delivery of the PRES, which last year involved 18 research teams conducting studies across several medical specialties and trials units, including; cardiovascular research at St. Bartholomew's Hospital and the William Harvey Research Institute, The Clinical Research Centre at The Royal London Hospital and The Clinical Research Unit at Whipps Cross, Children's Health, Stroke, Endocrinology, Haematology et al.
We finished top of the NIHR CRN: North Thames leader board with 831 surveys completed (against a target of 450) providing us with a significant amount of patient feedback to help us better understand what is important to patients taking part in our studies. This, in turn, helps us to make improvements, where they are likely to have the greatest impact.
What changes are we making?
Improving communication with patients/participants during a study
Contacting patients by phone/in clinics and giving them the option to receive the PIS and ICF via email, if that is their preference.
Research staff to check periodically that trial patients know who to contact if they have a question or concern about the study (rather than just at the beginning of the study).
Consider offering virtual follow-ups for patients who have to travel further (as possible dependent on study protocol)
Improving the dissemination of research results
Improving ways to share study results with trial participants – currently, each study has its own dissemination SOP; the local plan is to streamline this process and create an SOP to be applied to all studies.
To make wider use of infographics and other formats (e.g. videos) to disseminate results to staff and patients
Ideas for raising the profile of research amongst patients and the public
Improve visibility of oncology research by ensuring that current information about relevant research is listed on the Barts Health website and made available in our clinics and waiting areas. , e.g. current clinical trials, trial results updates
Web presence – to build the web presence of the ED team – either via Barts Health website or other means.
For more information, you can read: